Rana Plaza Building Collapses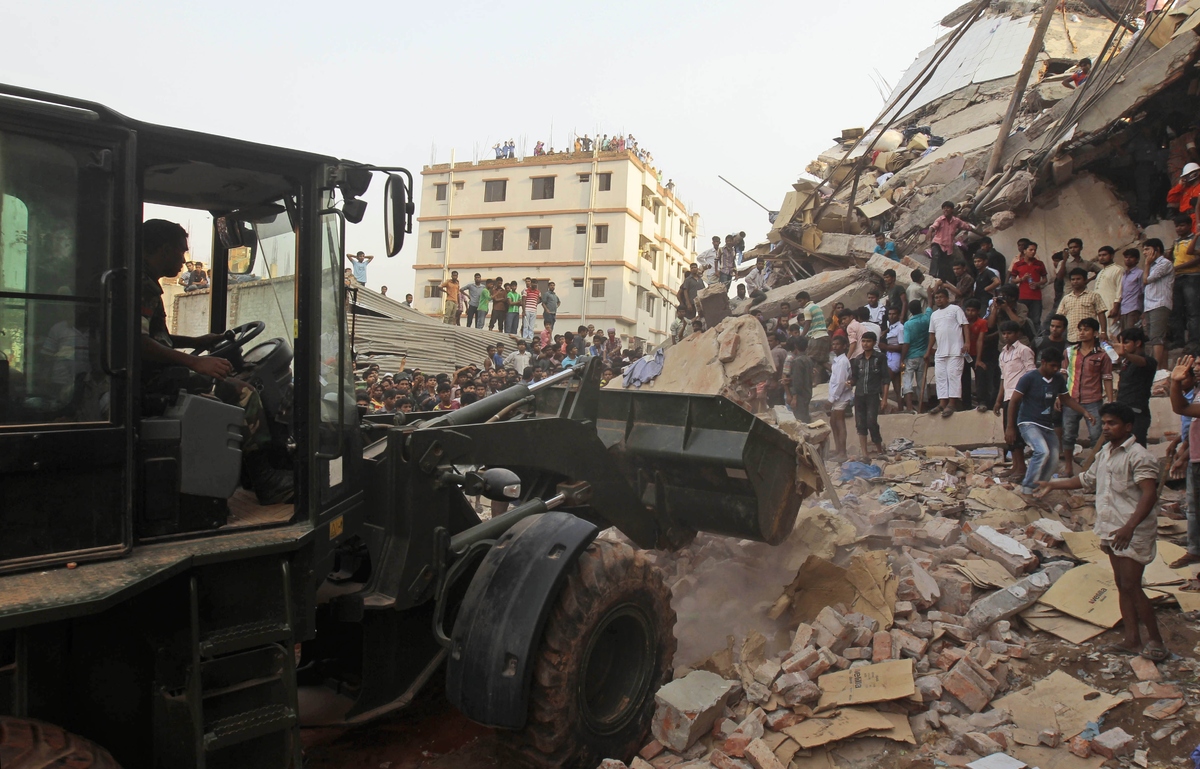 Rana Plaza Building Collapses
Savar, Bangladesh
4/24/2013
Edouard Terzis
Bangladesh is a country situated south east of Asia. Its territory extends on 147,570 sq. km housing a population of 150,789,000 where almost a third live in Dhaka the capital and its suburbs. Despite being a developing nation, Bangladesh's poverty rate has declined by 25% since 1990 and the per-capita GDP has doubled since 1975. This is mainly due to the rise in exterior investments in its textile industry (2nd largest after China's), representing $20 Billion of its yearly GDP thanks to the lowest wages in the world.
It is also known for its poor infrastructure and workers safety, especially after the fire at the Tazreen Garment factory that had 3 floors out of 8 legally constructed where 112 people lost their lives trapped inside because the manager wouldn't let them leave even though the fire alarm went off. This tragic event didn't stop what on the 24 of April 2013 (5 month after the fire) would be the deadliest garment factory accident in history as well as the deadliest accidental structural failure in modern human history.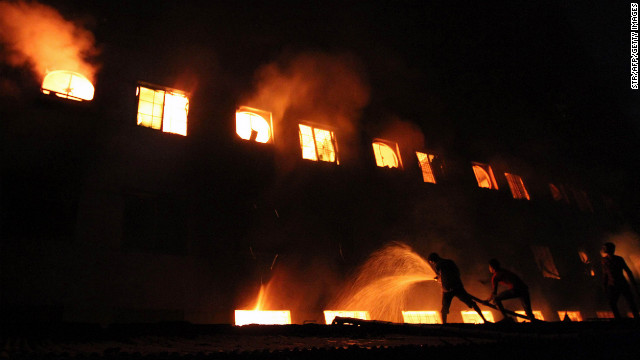 Situated in the greater Dhaka Area, Savar is known for its garment factories that essentially produce clothes to top Western brands. The Rana Plaza was one of them, housing 5 garment factories employing around 5000 people, several shops and a bank. Owned by Sohel Rana, the building was initially "planned for shops and offices" as Massood Reza, rana Plaza's architect said. Not only was it turned into factories, but also three illegal floors were added after the help of an engineer that is now under custody with the building owner.

Sitting on top of the building were heavy machinery like power generators (because of regular electricity shortages) that would regularly shake the structure. One day before the accident, after cracks in the building discovered, the same engineer that helped build the 3 extra floors requested evaluation and closure. The next day, workers being afraid of working in this unsafe building were threatened with their monthly salary of 50$ if they wouldn't come to work. A few minutes before 9 am, the electricity went off. As soon as the generators were turned on, the structure not able to hold any more vibrations led to the collapse of the building on 3,122 workers keeping just the first floor intact.  With a death toll of 1,129 and 2,500 injured, the world is looking closely at the event, what is not at the taste of the local authorities that already rejected the help of the United Nations to offer them their expertise in the rescue of the survivors. The government heavily depending on this industry, and especially on foreign investment doesn't want this event to tarnish the image of the country as a the country finance minister said he didn't think it was "really serious."- "The present difficulties … well, I don't think it is really serious – it's an accident," he said. "And the steps that we have taken in order to make sure that it doesn't happen, they are quite elaborate and I believe that it will be appreciated by all."
After the fire at the Tazreem garment factory the government made the same promises, and that was 5 month before the most fatal accident. Comparable to the earthquake in china in 2008 that led to the death of thousand of children, the government blamed "shoddy building work" even though they were state owned.  On the other hand, Bangladesh authorities, and especially workers are afraid that too much negativity over safety issues in factories in Bangladesh would push foreign retailers to pull their orders and loose their jobs.
Architecture correlates with its budget and the people occupying the future work but is it a reason not to even respect the strict minimum safety in Bangladesh or other low wages countries? Will all the developing countries go through these kinds of problems like China did before Bangladesh? Can a minimally safe enough Architecture in these countries be a problem for western brands where it could raise its production costs? And if it is, can this vicious circle be broken one day or is the human greed bigger than its morality and consciousness?
"Doing nothing for others is the undoing of ourselves" – Horace Mann
Who is to blame? Many people blame the big western brands, but they just placed orders in these factories they don't own them! People would argue that they knew about the work conditions and didn't act, thinking about their future profits! Is that what liberal economy is about? Exploitation of some at the profit of others? Is it the careless architecture of these exploitation centers the only problem? Ironically Fazlur Khan, considered the greatest structural engineer of the 20th century was from Dhaka, the same area where the building collapsed! Would a better architecture and safety of these factories avoid accidents? And if they did would it ameliorate the workers conditions?
ANNOTATED BIBLIOGRAPHY
JOURNALISM
. Yardley, Jim. "Report on Deadly Factory Collapse in Bangladesh Finds Widespread Blame," The New York Times: World- Asia Pacific http://www.nytimes.com/2013/05/23/world/asia/report-on-bangladesh-building-collapse-finds-widespread-blame.html?_r=0 (accessed September 13, 2013).
This article points out the causes of the accident that are construction with substandard materials and non conform to building codes. The biggest aim of the author is to denounce the corruption and negligence of local authorities and of the owners "[the report] blamed the mayor for wrongly granting construction approvals" "[the report] also suggested that Mr. Rana had bribed local officials for construction approvals."
. Alam, Julhas. "Bangladesh Building Collapse: Dozen Dead, Other Feared Trapped," The Huffington Post: World http://www.huffingtonpost.com/2013/04/24/bangladesh-building-collapse_n_3143845.html (accessed September 14 2013)
The collapse came 5 month after a factory fire killed 112 people at the Tazreen garment factory, where only 3 floors out of 8 were built legally and the employees were locked inside during the fire, even when the fire alarm went off. Showing the unsafe conditions of garment factories in Bangladesh.
The factory in Savar drew attention a day earlier as cracks appeared, but employees were forced to work. An other highlight of corruption in Bangladesh: "You can't trust many buildings in Bangladesh," Kernaghan said. "It's so corrupt that you can buy off anybody and there won't be any retribution." (Charles Kernaghan, executive director of the Institute for Global Labor and Human Rights)
The building housed a bank and various shops in addition to the garment factories.
$20 billion a year textile industry (2 nd largest after China) represented by 4,000 garment factories, exporting clothes to leading Western Retailers
. Hossain, Farid and Alam, Julhas, "Bangladesh Building Collapse Death Toll Tops 500; Engineer Whistleblower Arrested," The Huffington Post: Business
http://www.huffingtonpost.com/2013/05/02/bangladesh-death-toll-tops-500_n_3199568.html#slide=2386697
The Government trying to contain the situation by arresting most of the people involved in the accident (really?) and minimizing its involvement in it. WHO TO BLAME? (Retailers? Government? Owners?)
. Spencer, Richard. "China earthquake: Building work blamed for child death toll," The Telegraph: World – China http://www.telegraph.co.uk/news/worldnews/asia/china/1969382/China-earthquake-Building-work-blamed-for-child-death-toll.html (accessed September 22)
Poor construction of schools in China led to the death of thousand of children after an earthquake. Building work blamed by government trying to deny responsibility.
. Gomes, Willam. "Reason and responsibility: the Rana Plaza collapse," Open Security http://www.opendemocracy.net/opensecurity/william-gomes/reason-and-responsibility-rana-plaza-collapse  (accessed September 22)
Who is responsible for the collapse of the Rana Plaza, entire analysis of the reasons why it collapsed.
. IndustiAll global union: Bangladesh http://www.industriall-union.org/tags/bangladesh?page=1 (accessed September 22)
Safety deals after the Rana Plaza accident, workers union, fighting for better work conditions.
. Burke, Jason (in Savar)."Bangladesh Factory Collapse Leaves Trail of Shattered Lives," The Gardian: World News – Bangladesh http://www.theguardian.com/world/2013/jun/06/bangladesh-factory-building-collapse-community (accessed September 22)
Workers in Savar: how are they living the Rana Plaza tragedy.
ENCYCLOPEDIA ENTRY
. Primary contributor: David Scott Mathieson, "Bangladesh: Year In Review 2012," Encyclopedia Britannica Academic Edition http://www.britannica.com/EBchecked/topic/1902591/Bangladesh-Year-In-Review-2012?anchor=ref1167301 (accessed September 14)
In this article, basic knowledge is gained in understanding what characterizes Bangladesh.
. Wikipedia contributors, "2013 Savar Building Collapses", Wikipedia, The Free Encyclopedia http://en.wikipedia.org/wiki/Rana_Plaza (accessed September 15)
The Facts after the digging were done (mid may), number of death…
SCHOLARLY ARTICLES
Molla, Mohammad Mofigul Islam, "Contractor Prequalification Practices in Bangladesh," North Dakota State University, ProQuest, UMI Dissertations Publishing, 2013. http://search.proquest.com/docview/1351981140/previewPDF?accountid=14214
Everything about contractors in Bangladesh (for high value project only).
ORTHOGRAPHIC DOCUMENTATION
.A.M,Ahad, The Huffington Post, Online Photography http://i.huffpost.com/gadgets/slideshows/293702/slide_293702_2378030_free.jpg?1366886103405
Bangladeshi soldiers use an earthmover during a rescue operation at the site of a building that collapsed a building collapse in Savar, near Dhaka, Bangladesh, Wednesday, April 24, 2013. An eight-story building housing several garment factories collapsed near Bangladesh's capital on Wednesday, killing dozens of people and trapping many more under a jumbled mess of concrete. Rescuers tried to cut through the debris with earthmovers, drilling machines and their bare hands.
.A.M,Ahad, The Huffington Post, Online Photography  http://i.huffpost.com/gadgets/slideshows/293702/slide_293702_2373547_free.jpg?1366799427868
Rescue workers and people look for survivors after an eight-story building housing several garment factories collapsed in Savar, near Dhaka, Bangladesh, Wednesday, April 24, 2013. Dozens were killed and many more are feared trapped in the rubble.
VIDEO AND AUDIO
."Update on Bangladeshi Garment Factory Tragedy," Huffington Post Video,http://www.huffingtonpost.com/2013/05/02/bangladesh-death-toll-tops-500_n_3199568.html (2min36)
This video, moments after the collapse show the importance and tragedy of that event.
."Will Retailers Invest in Safer Conditions in Bangladesh?" Youtube video, Posted by PBS News Hour http://www.youtube.com/watch?v=ukcRfrEIYQo (7min43)
Debate about two opposing views on how to make the Garment industry safer in Bangladesh.
https://globalhistory.expressions.syr.edu/rana-plaza-building-collapses/?preview=true&preview_id=2149&preview_nonce=566debd55f